Shrink Wrapping In Suffolk County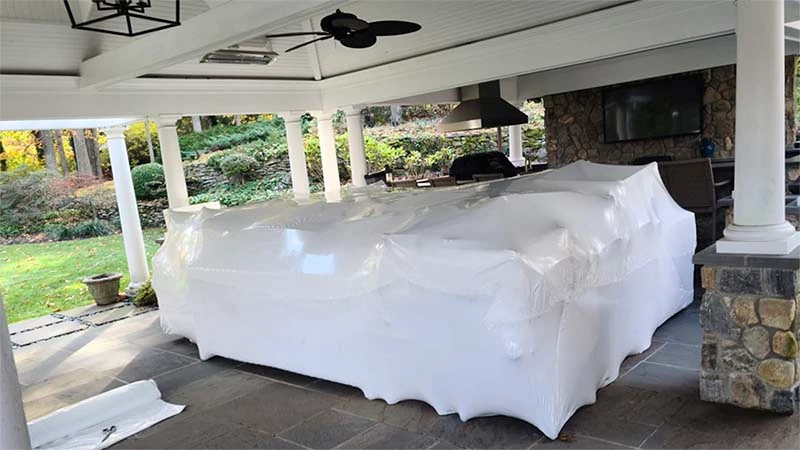 Your Home Is Probably The Single Largest Investment That You Will Make In Your Lifetime. Our shrink wrapping is designed with your investments in mind. We use high-quality materials and take special care to protect your most valuable outdoor items. our team will be there to help you keep your property safe throughout the rough winter weather.
Things That Can Be Shrink Wrapped
Patio Sets
Outdoor Furniture
Outdoor Kitchens
Boats
RV's
Outdoor Equipment
Outdoor AC Units
Tractors
You Name It We Can Wrap It

Shrink Wrapping
Long Island
We Are Long Island's #1 Shrink Wrapping Company
Fully Licensed and Insured With Experienced Staff
Serving All of Long Island For Over 20 Years
Power Washing
Our Home Is Probably The Single Largest Investment That You Will Make In Your Lifetime. PWNY Power Washing Will Brighten Your Siding, Fences, Walkway and Driveway. Bring Out The True Beauty Of Your Home. Make Your Deck, Patio And Pool Area The Envy Of All Your Neighbors. Keeping Your Property Free Of Pollutants And Dirt.
Soft Wash Roof
Soft Washing Is A New And Safer Way To Clean Exterior Surfaces. This Method Is Best Used For Roof Cleaning, House Washing, Deck Cleaning, And Even Cement Cleaning. Safe Detergents, Chemicals & Very Low Pressure Water is Used. This New System Not Only Cleans Better, But Also Treats The Surfaces As Well. Call Now For Appt.
Gutter Cleaning
Expensive Problems Can Arise If You Let Your Gutters Go Uncleaned. Accumulated Debris In The Gutters Will Shorten The Lifespan Of The Gutters. This Will Cause Other Issues As Well As Water Retention For Foundation And Basement Damage. Gutters Should Never Be Neglected. Get Your Gutters Cleaned Today.
Window Cleaning
At PWNY Window Cleaning, We Guarantee We Will Leave You With Windows Far Cleaner And Brighter Than Ever Before. We Are The Premier Window Washing Company In Long Island, Serving All of Nassau County For Over 20 Years, Our Dedication Is To Deliver High-Quality Service To Our Customers Every Day.
Shrink Wrapping
When You Need To Protect Your Outdoor Furniture or Equipment From The Winter Weather in Long Island, Call PWNY Services, We Can Wrap Boats, RV's, Lawn Furniture, Patio Sets, Tables, Chairs, Tractors, Outdoor Equipment, AC Units, Industrial Machinery and More. Click to See Our Work
Commercial Properties
We Specialize In Power Washing or Pressure Washing All Commercial Properties, Buildings, Co-ops, Communities Exterior Walls, Facades, PVC Fences, Signs, Driveways, Sideways, Stairs, Steps, Porches And More. Call Today For a Free Estimate on Your Commercial Property.
We Can Help With Any Power Washing, Pressure Washing or Soft Washing Projects. Looking For A Clean Roof, Siding, Driveway, Walkway, Windows, Stoops, Patios, Steps, Decks, Outdoor Kitchens, Poolscapes, Retaining Walls, Facades, Or Anything That Needs To Be Cleaned. Click to See Our Work
Free Estimates
We Offer Free Quotes for All Residential Homes and Commercial Properties. We Welcome All Power Washing Projects in Nassau County. Open Mon to Sun 7am to 10pm. Call Us For A Free Evaluation Of Your Next Project. For Over 20 Years, PWNY Services Has Power Washed Homes and Businesses in Long Island.
Get in Touch Fast
Need a Quote or Answer a Question
About Our Services?
We are Always Available to Help
(516) 219-9010
---
---